Dustless Tile Floor Removal in Sarasota, Florida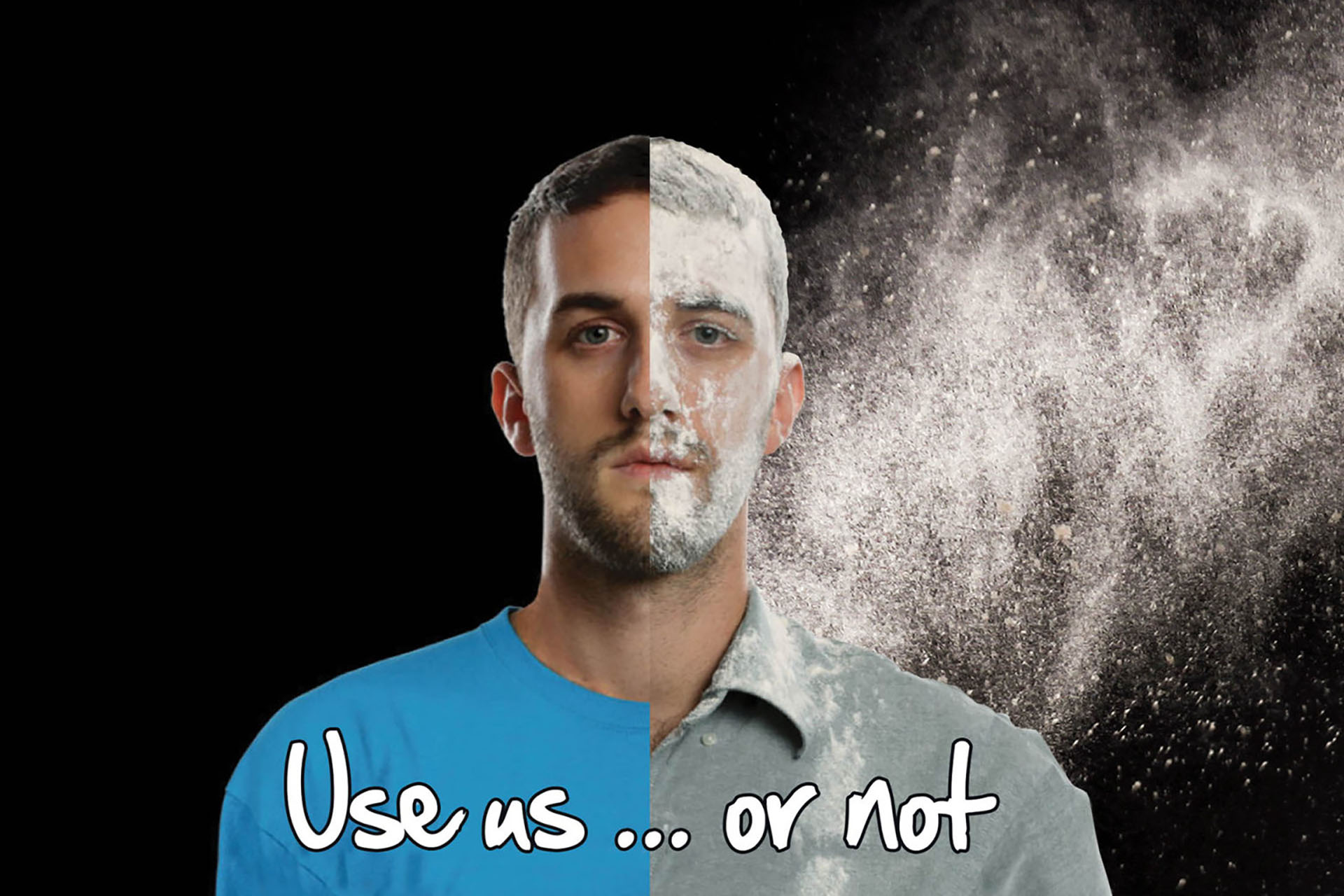 DustRam® –
Inventor of Dustless Tile Removal
When you hire a DustRam® certified contractor, you are guaranteed a truly dustless tile floor removal service. If you are a resident of Sarasota, Florida, and need tile removal services you can trust, for your commercial or residential property, choose DustRam®. As the inventor of dust-free tile removal, our mission is to provide pristine flooring removal services without leaving any dust behind. Trust in our system just like we do! We capture approximately 99.97% of crystalline silica dust the moment it is produced! No dust, No Mess is our promise to you!
Hours of Operation:
Mo-Fri: 7 AM – 4 PM
Sat-Sun: Closed
Visit Website

DustRam® Sarasota

is the Top Choice for Your Flooring Removal
While a quick splash of paint can refresh a room, replacing old floor tiles with updated materials like hardwood or luxury vinyl can give your home an entirely new look and feel. You may be wondering what method is best to remove ceramic tiles from a concrete floor. When it comes to floor removal, the best solution comes with hiring a professional contractor certified by DustRam® to perform the removal service. In the long run, the potential problems of removing ceramic tiling yourself or choosing a contractor that does not use dust-free equipment will cost you far more than a certified DustRam® contractor. When hiring a dustless tile removal service, the immediate benefits become obvious. You will end up saving the most money because you won't need to incur professional cleaning costs because of dust exposure. The prevention of exposure to silica dust means you won't need to hire a professional cleaning company to remove the dust. This process takes many months on average inevitably piling up the costs and exposing you to the dust known to cause serious lung diseases. Choosing a dust-free flooring removal is the way to go.
Hire the original dustless tile floor removal company in the nation for the best-results money can buy.
99.97% of Dust is Captured
Inventor of Dustless Floor Removal
Better, Faster, & Cleaner

Let DustRam® Remove Your Residential Floor Without the Dust!
Our experts use the most advanced dust-free tile removal system from DustRam®. The manufacturer holds 24 patents on this innovative system that no other tile removal company can match in terms of safety and quality of results. We can remove any type of flooring material such as wood planks, carpeting, Saltillo, stone, any tiled and grouted surfaces, and the hardened adhesive compounds applied during installation. DustRam® solves the biggest problem in the flooring removal process, which is the creation of a level of dust. DustRam® captures and prevents any dust from getting into the air in your living space unhealthy, which means you and your family can enjoy a much cleaner and healthier living environment.
Crystalline silica has been determined to be a carcinogen. Although these particles do exist in the air in any typical environment, the amount is low and normally would not pose a problem for people. However, when the flooring is removed, the adhesive compounds used in the flooring are broken up and produce a significant amount of silica dust in the process. A huge amount of dust is produced when tiles are demolished. This dramatically increases the concentration of silica dust in a confined space, which becomes a health hazard that goes above the Permissible Exposure Level, or PEL, set by OSHA.  
Crystalline silica is considered an occupational respiratory hazard by OSHA. With long-term exposure, it can lead to lung cancer, silicosis, and other respiratory problems. Silica is on the list of NIOSH and the CDC as a carcinogen. Occupational workers are trained to wear protective gear when working with silica. However, homeowners get no protection when they are exposed to silica dust in their homes. This is why we encourage all homeowners to hire a certified DustRam® contractor for their flooring removal project. Ultimately, this is the better choice for a healthier living environment.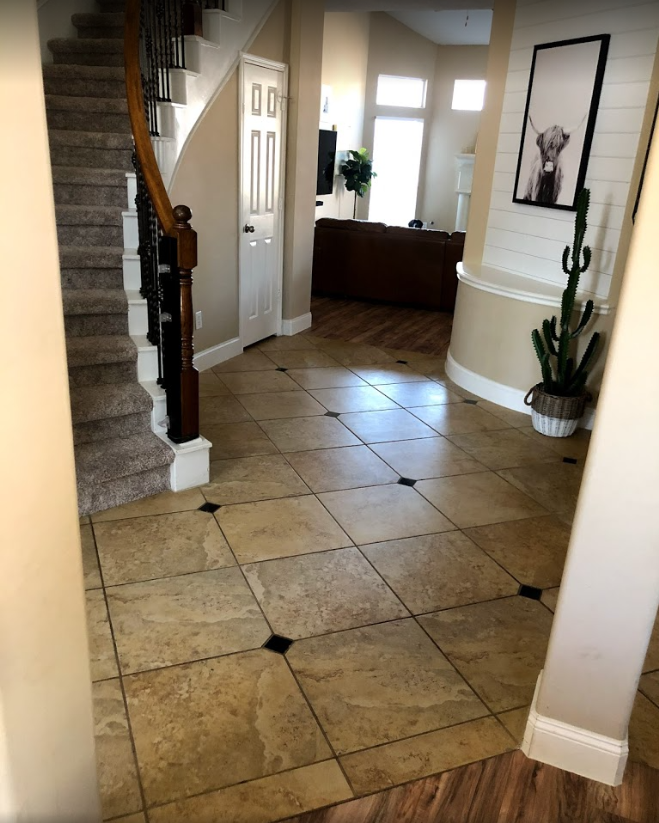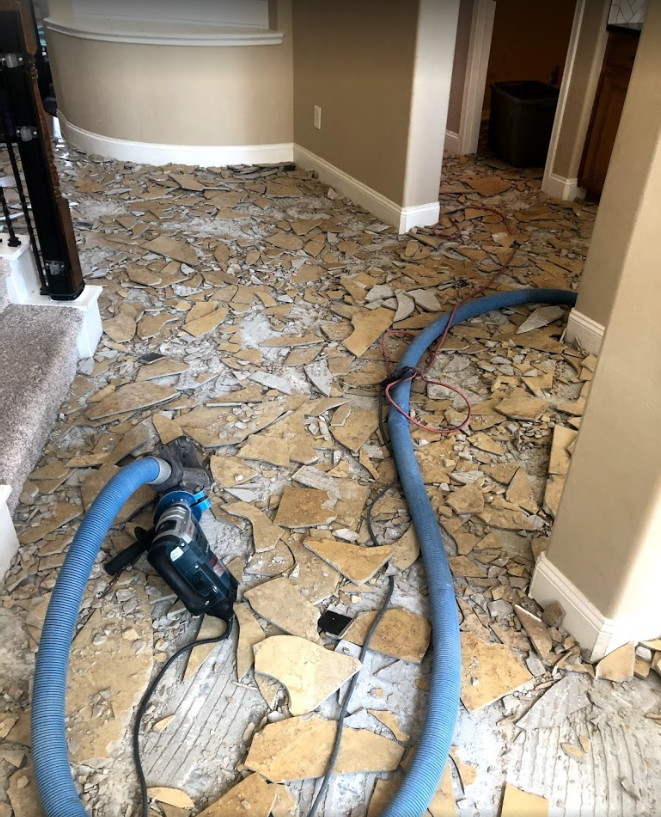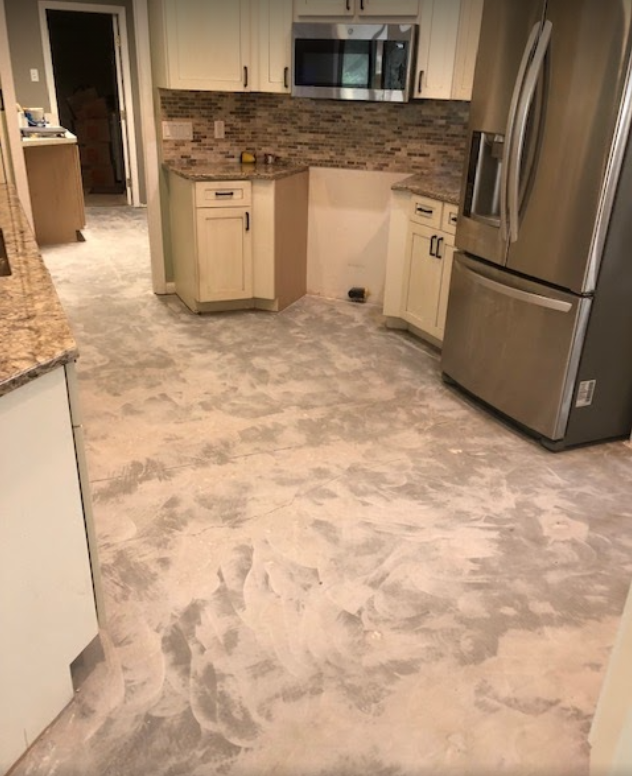 DustRam® Removes Residential, Industrial, and Commercial Flooring
Did you know the average tile removal job produces about six hundred pounds of crystalline silica dust? In fact, about 1 pound of dust is created per square foot of tile floor that is removed. This means that you run the risk of exposing yourself and your loved ones to hundreds of pounds of silica dust by hiring traditional or virtually dust-free tile removal companies to do the job. Virtually dust-free means that while the dust is not visible to the naked eye, it still exists in your home. Crystalline silica dust particles are exactly 100 times smaller than one tiny grain of sand.
What makes DustRam® different? Currently, no other type of flooring removal equipment or system can thoroughly prevent the release of silica particulates into the air during the flooring removal process. As soon as the first piece of old flooring is lifted, silica dust is released and distributed into the air. The patented DustRam® system prevents this from happening by capturing this dust as soon as it is created. 
The DustRam® advanced system incorporates uniquely designed parts, dust guards, powerful HEPA filters, self-cleaning Tile Removal Vacuums®, and other proprietary processes that do not give any dust particulates a chance to get into the air. The result is an amazingly clean environment after the work is done. DustRam® works effectively on any type of flooring removal including all types of tile, carpeting, wood, sheet vinyl, Thin-set, cement, and all types of adhesives. No other commercial flooring removal system on the market today can match the clean, high-quality results that DustRam® delivers.
If you need to remove your floor and don't want hazardous silica dust to pollute the air in your home during the process, contact us today for a consultation. We can explain how our dust-free solution works, and we are confident that you will be impressed with the results.
Traditional and Virtually Dust Free, Leave Dust in Your Home!
Why settle with a service that cannot promise immaculate results? At DustRam®, we guarantee that our system produces superior results over any other system used by other contractors today. Other methods cannot match our efficiency, cleanliness, and overall superior results. You will be amazed at how clean your home looks and feels after we use the DustRam® system. You will not see any silica dust. We can remove a wide range of flooring materials including ceramic tile, slate tile, porcelain, stone, marble, Saltillo, travertine, limestone, flagstone, carpeting, adhesives, glues, and much more. When you hire our certified DustRam® contractor, you hire the best in the industry. We will make sure that no hazardous silica dust will contaminate the air in your home. Call us to discuss your floor removal needs today!
Flooring removal has always been a dusty and messy process. This is the primary reason why homeowners avoid replacing their floor, even if their old floor is worn and outdated. Contractors even agree that they would rather not have to work with the mess. When DustRam® arrived on the market, we set new standards by solving the dust problem. Not only did we remove the dust problem, but we also solved a health hazard problem by eliminating crystalline silica particulates. Contact our team for a free project estimate.