Find Dust Free Tile Floor Removal Contractors in Your City
United States of America
Our dust-free tile removal contractors provide a truly dustless flooring removal solution right at your door! Our crews utilize a 24 times patented system of tools and equipment to remove your flooring approximately three times faster than any other contractor in the business. Our contractors are all DustRam® certified meaning, they all remain 50 times under OSHA's permissible exposure limit. We use the most advanced technology in the world to capture dust the instant it is created and prevent it from touching the air you breathe.
By checking the DustRam® Contractor Map, consumers can see who has been trained and certified as an authorized DustRam® contractor. All will have complete patented DustRam® Systems with over 250+ components. A homeowner or general contractor who hires a company for quality flooring removal for health, efficiency, and overall cost value deserves to get their monies worth. Don't settle for outdated tile removal methods. Hire a DustRam® contractor and avoid exposing your loved ones to respirable crystalline silica dust!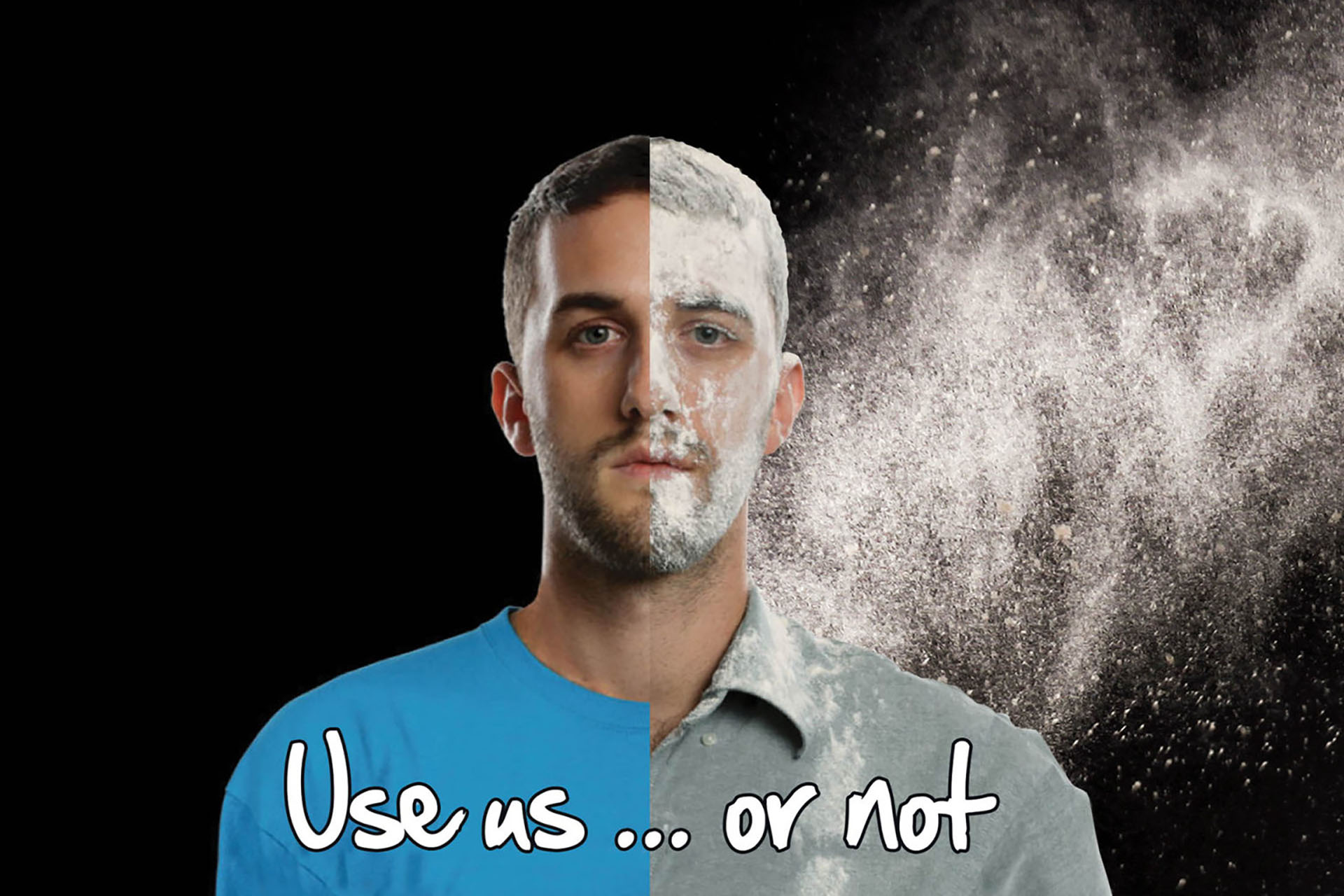 BETTER, FASTER, AND CLEANER!
DustRam® Contractors Leave Your Subfloor Ready for Installation
Watch the DustRam® Contractors Remove Tile Flooring While Capturing the Dust
DustRam® is the only dustless tile removal certifying entity in the United States of America. In 2008, DustRam® introduced the nation's most efficient and robust system in existence. Since its inception, DustRam® has led the industry with more than 23 contractors and a one of a kind system that eliminates exposure to crystalline silica dust. The DustRam® system and method was intricately designed to capture dust at production preventing it from ever going airborne in your home. Not only does DustRam® remove tile and capture 99.97% of dust but it removes tile flooring exceptionally fast. By hiring one of the DustRam® contractors in the US, you will be choosing a company that also leaves your concrete subfloor in pristine condition for a smoother and better floor install.
Dust-Free is the Better Option for Commercial & Residential Properties
A truly dust-free removal is the only process that captures 99.97% of the dust from flooring removal. Unlike traditional or virtually dust-free contractors, DustRam® removes dust particles down to 0.3 microns. Our technologically advanced system removes dust 100 times smaller than a grain of sand. The average tile removal project releases 600 pounds of cancer-causing silica dust that not only gets into hard-to-reach areas in your home, but it can also get into you! By hiring a DustRam® certified contractor, you are choosing an environmentally safe approach to flooring removal.
DustRam® contractors are all OSHA compliant and are factory trained to use their system to maximize efficiency and keep dust from being released into your home, cabinets, pantry, drawers, ceilings, and more. Dustless tile removal also saves you money on unwanted costs down the road. The process leaves your home clean if not cleaner than it was before DustRam® arrived. No professional cleaning sessions for months or years to come will be necessary. Choose DustRam®, the inventor of dust-free flooring removal.

OSHA's Respirable Crystalline Silica Standard for Tile Removal
The OSHA standard for tile removal requires contractors to remain under the permissible exposure limit. Anybody exposed to crystalline silica dust increases their chances of developing serious and sometimes deadly respiratory diseases such as Silicosis, lung cancer, COPD, and more. Crystalline silica dust is the mineral created during the chipping and removal of tile flooring. Silica dust may travel into the lungs and result in incurable diseases. 
The standard requires a limit to exposure. The dustless tile removal process by DustRam® is fifty times under the OSHA limit making all of their contractors and processes compliant. DustRam® HEPA filters are 99.97% efficient in removing monodispersed crystalline silica dust particles of 0.03 micrometers in diameter. 
DustRam® chips tile, collects the debris and grinds thinset down to the concrete slab completely dust-free. Grinding thin-set away with proper profiling ensures a significantly better bond as recommended by ANSI-A108. DustRam® will make sure the subfloor is left in ideal condition for a better installation by scarifying the concrete and leaving it smoother and flatter.
Considering Replacing Ceramic Tile? Let DustRam® Remove Floor in Your Home
The DustRam® System was created for contractors whose clients are worried about the danger of direct exposure to the large quantities of dust being produced using traditional flooring techniques. Out-of-date tools and flooring scrapers create so much dirt, it could take months (or even years) to eliminate most of it from your house.
This process of dustless elimination of tile flooring shields you, members of your family, sensitive parts of your house, including your important items from dust contamination. Only the DustRam® System provides a clean, healthy, and environmentally friendly means to get rid of ceramic tile as well as various other floor covering. 
Quality and Customer Satisfaction Guaranteed
The DustRam® System Is The Answer For:
Any house of great worth filled with beneficial personal belongings that you take satisfaction in.

Homes with seniors, children, toddlers and kids, and family pets.

Homeowners with wellness issues such as allergies, asthma, or other respiratory conditions.

Those that wish to keep the tidiness of their home throughout the remodeling procedure.

Anyone who appreciates the finest quality and the best value they can get for their hard-gained dollar.
The video clip reveals an example of how the floor tile elimination tools perform.  View to see exactly how rapidly and also efficiently the equipment and personnel work, while leaving the residences free of dust and also debris!
The Best Way to Remove Tile Floor is with DustRam®
Throughout the thinset removal procedure, the DustRam® System grinding devices dramatically lead to flatter subfloors. Some companies utilize ineffective hammer drills during ceramic tile concrete elimination. This badly ruins the surface area of your concrete subflooring as well as requires unanticipated expenses for repairs.
Superior Thinset Removal and Subfloor Preparation
DustRam® System Contractors have attended 3 Days of Hands-On site training.  This training is important in learning the processes and proper usage of the tools before the equipment is ever shipped off to their company. This ensures you have only the best experience from the nation's best contractors!
Clean or Virtually Clean Flooring Removal
Is Not the Same as a DustRam ® Dustless Tile Removal
Be alert for incorrect advertising and marketing, misstated claims, improperly fabricated imitations of our products, and the use of numerous terms like virtually dust-free, dustless, reduced dirt, essentially dust-free, low dust, tidy tile demolition, clean air, or various other statements that do not deliver what is promised. Professionals and companies without the DustRam® System Equipment lack the patented, state-of-the-art elimination devices, specialized training, and expertise.
What does it mean if a business assures you their solution is 98% free of dust? It means if your removal generates 500 lbs of dust (based on 500 sq. ft. of ceramic tile), the 2% left amounts to 10 pounds of dust that will contaminate your house!
Be sure to verify any claims of the results you can expect from anyone declaring to supply tidy, clean, virtually, or practically dust-free floor tile elimination.  Request referrals, read their reviews (if they have any) and check if their certifications or licenses are current, put on hold, or previously revoked under a different company name.
Hire a DustRam® certified contractor for peace of mind. Don't fall victim to the dust. If you have any questions or require more information, don't hesitate to give us a call!
FIND A CONTRACTOR