Dust-Free Tile Floor Removal in Miami-Dade, Florida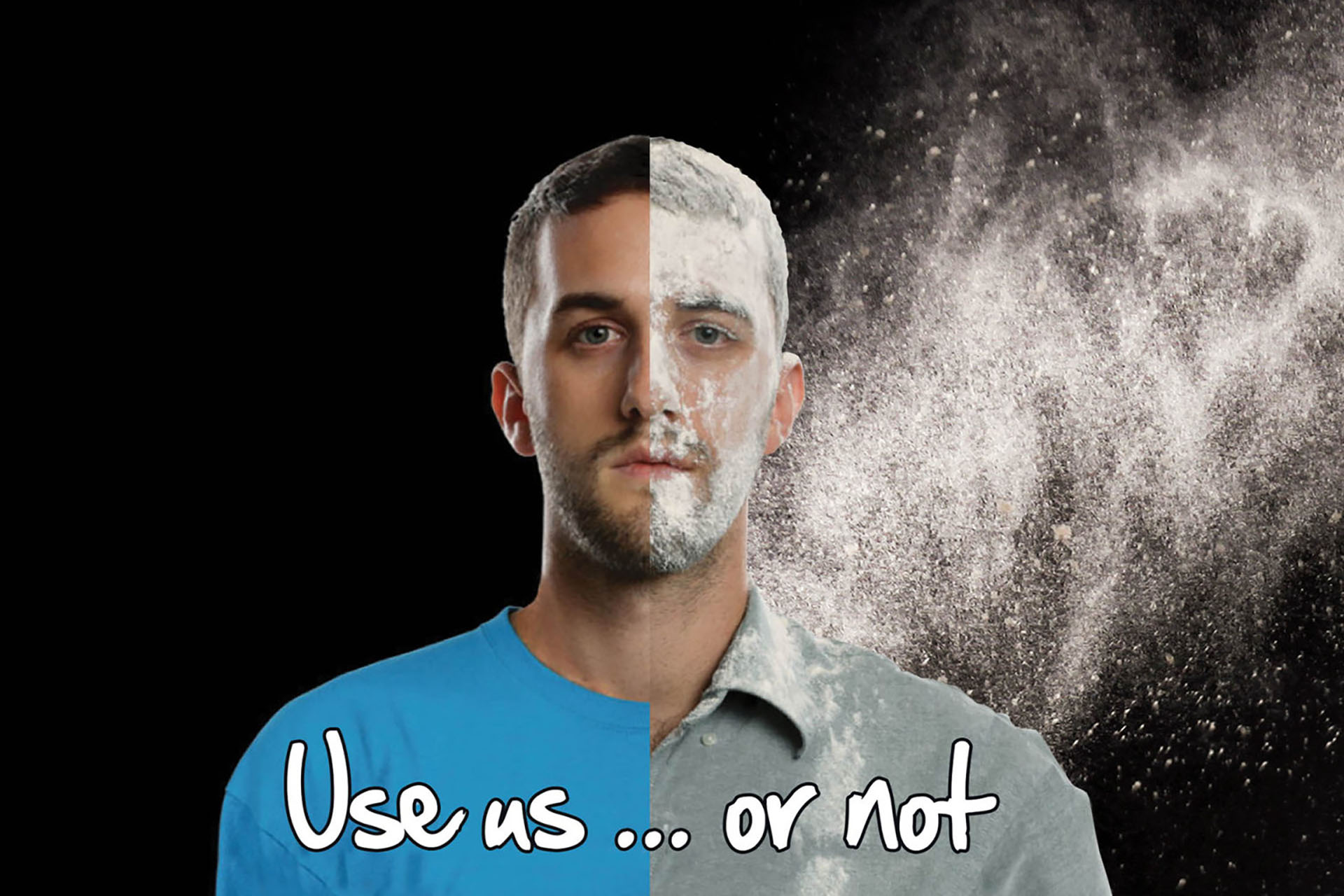 DustRam®

–

Inventor of Dustless Tile Removal
If you are in the market for dustless flooring removal in Miami, Dade, look no further than DustRam®. We invented dust-free tile removal in 2008 and own a robust system that effectively and efficiently removed flooring without the dusty mess. DustRam® removes several varieties of flooring, including hardwood, ceramic floor tiles, porcelain, carpeting, Saltillo, thin-set, stone, tub surround, and tile backsplash. DustRam® is the owner of 24 patents for equipment designed to collect tile dust as it's being created. Thanks to our patented tools and equipment, DustRam® can remove tile without leaving any silica dust behind. Contact us today to get a free estimate.
Hours of Operation:
Mo-Fri: 7 AM – 4 PM
Sat-Sun: Closed
Visit Website

#1 Contractor for Dustless Flooring Removal in

Miami Dade
The patented DustRam® equipment makes it possible to remove tiles safely, efficiently, and in an environmentally friendly way. DustRam®'s 24 US patents of proprietary tools and equipment separate us from any other flooring removal company in the nation. Our cutting-edge tools capture 99.97% of silica dust created from chipping your tile floor. The only entity that offers dustless tile removal certification in the US is DustRam® LLC. Not only do we have several corporate facilities, but there are also over 23 contractors that are DustRam® certified and factory-trained, across the country.
DustRam®'s equipment instantly captures the silica dust never releasing it in your commercial or residential property. Our team carefully executes each step of the dustless process, ensuring that dust doesn't wind up in the air you breathe. After your flooring is removed, the subfloor will be ready for installation. Because quality is highly important to us, we not only remove your floors dust-free but also grind down the thin-set mortar to the concrete slab and scarify it. Scarification makes the bonding and adhesion easier when you lay down the new floor. Other contractors skip this step entirely which means your floor will not be leveled and will inevitably arise completely off-setting your baseboards.
Hire the original dustless tile floor removal company in the nation for the best-results money can buy.
99.97% of Dust is Captured
Inventor of Dustless Floor Removal
Better, Faster, & Cleaner
Replacing Tile in Your Home? Let DustRam® Remove it Approximately 3X Faster!
If you are in the midst of a home remodel or renovation, then you may be considering removing your flooring. Don't fall victim to the cancer-causing crystalline silica dust created during tile removal! You don't have to deal with dust pervading your home and costing you hundreds of dollars for multiple professional cleaning sessions. Save money by investing in a company that will do the job right and captures the dust so that it never touches the air you breathe. DustRam® is the better, faster, and cleaner choice in the US.
The development and manufacturing of our patented equipment and tools began in 2008. Today, we are the only Certifying Entity in America with a network that extends to over 23 Certified Contractors. Every contractor provides a 99.97% dust-free tile removal. It is the details of the tile removal process that make all the difference in the final results of the project. With the DustRam® equipment, silica dust is captured at the point of origin before it can be scattered fall throughout your home. Combined with our carefully planned process this ensures that none of the silica dust particles produced in the tile removal process will ever go airborne.
We have patented dust guards, effective automatic self-cleaning Tile Removal Vacuum, carefully designed 3D-printed components, HEPA filters and much more technology. All this technology is designed to protect your home or commercial location from the dangers of silica dust. Beware of conventional methods of tile and floor removal services that leave carcinogenic silica dust on every surface of the home. For more information about the benefits of DustRam® Tile and Floor Removal Services contact us.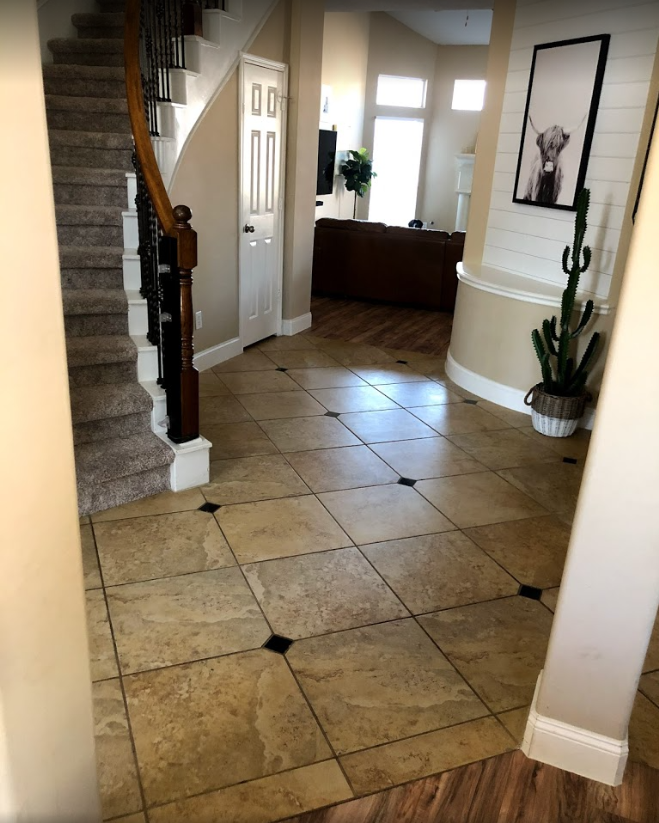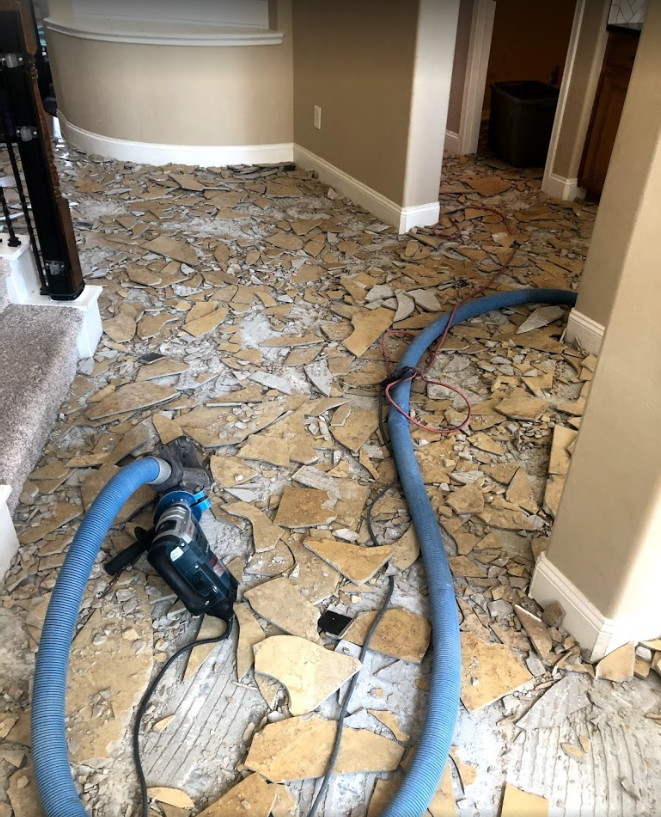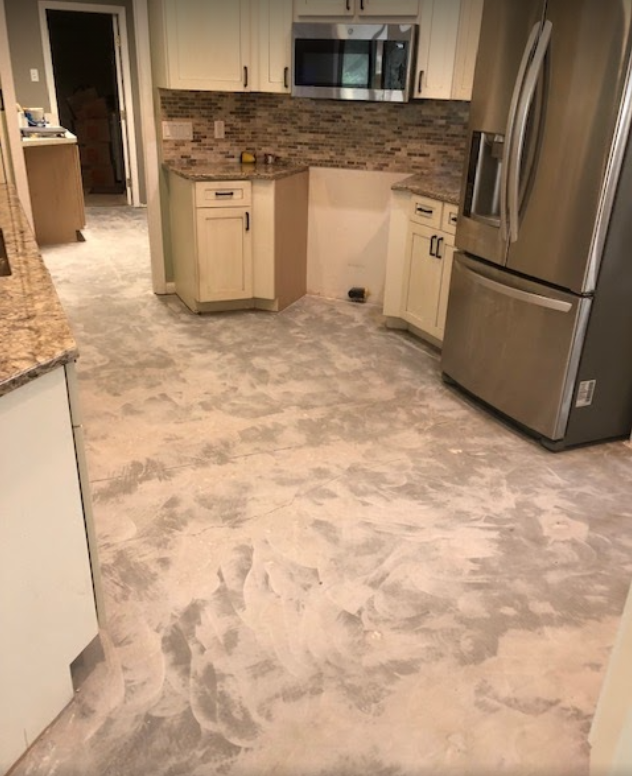 DustRam® Removes Commercial and Residential Floors
Our System Captures Dust 100X Smaller than 1 Grain of Sand
Did you know the average tile removal job produces about six hundred pounds of crystalline silica dust? In fact, about 1 pound of dust is created per square foot of tile floor that is removed. This means that you run the risk of exposing yourself and your loved ones to hundreds of pounds of silica dust by hiring traditional or virtually dust-free tile removal companies to do the job. Virtually dust-free means that while the dust is not visible to the naked eye, it still exists in your home. Crystalline silica dust particles are exactly 100 times smaller than one tiny grain of sand. This truly puts everything into perspective when it comes to choosing a contractor to remove your floor. Dust in a traditional and virtually dust-free tile removal is released back into your home and completely floods your cabinets, pantry, ceiling, drawers, and much more.
What Flooring Materials Can DustRam® Remove?
Our contractors specialize in Saltillo, natural stone, micro-toppings, terrazzo, carpet, adhesives, sheet vinyl wood, ceramic tile, hardwood, and a wide range of other types of floors. We deliver results that will always be cleaner than anything provided by other contractors in your city.
Hardwood Floor

Ceramic Tile

Thinset Mortar

Adhesive and Glue

Carpet

Natural Stone Tile

Slate and more
When the DustRam® system is applied to the task of removing these types of flooring, the danger of exposure to cancer-causing silica dust is eliminated. Our reliable services ensure that this dust never becomes airborne and thus you will be left with an uncontaminated home. This is a primary advantage of choosing DustRam®'s dustless flooring removal services.
Traditional and Virtually Dust Free, Leave Dust in Your Home!
Hire a Truly Dustless Tile Removal by DustRam® for Guaranteed Dust Free Results
Hire the inventor of the dustless flooring removal method and get the best results the first time around. Investing in dust-free tile removal not only leaves your home in remarkable condition but also saves a ton of money and time. Contact our team today and learn more about our process. You can also get a free estimate by visiting our contact page and filling out a form.