Dustless Tile Floor Removal in College Station, Texas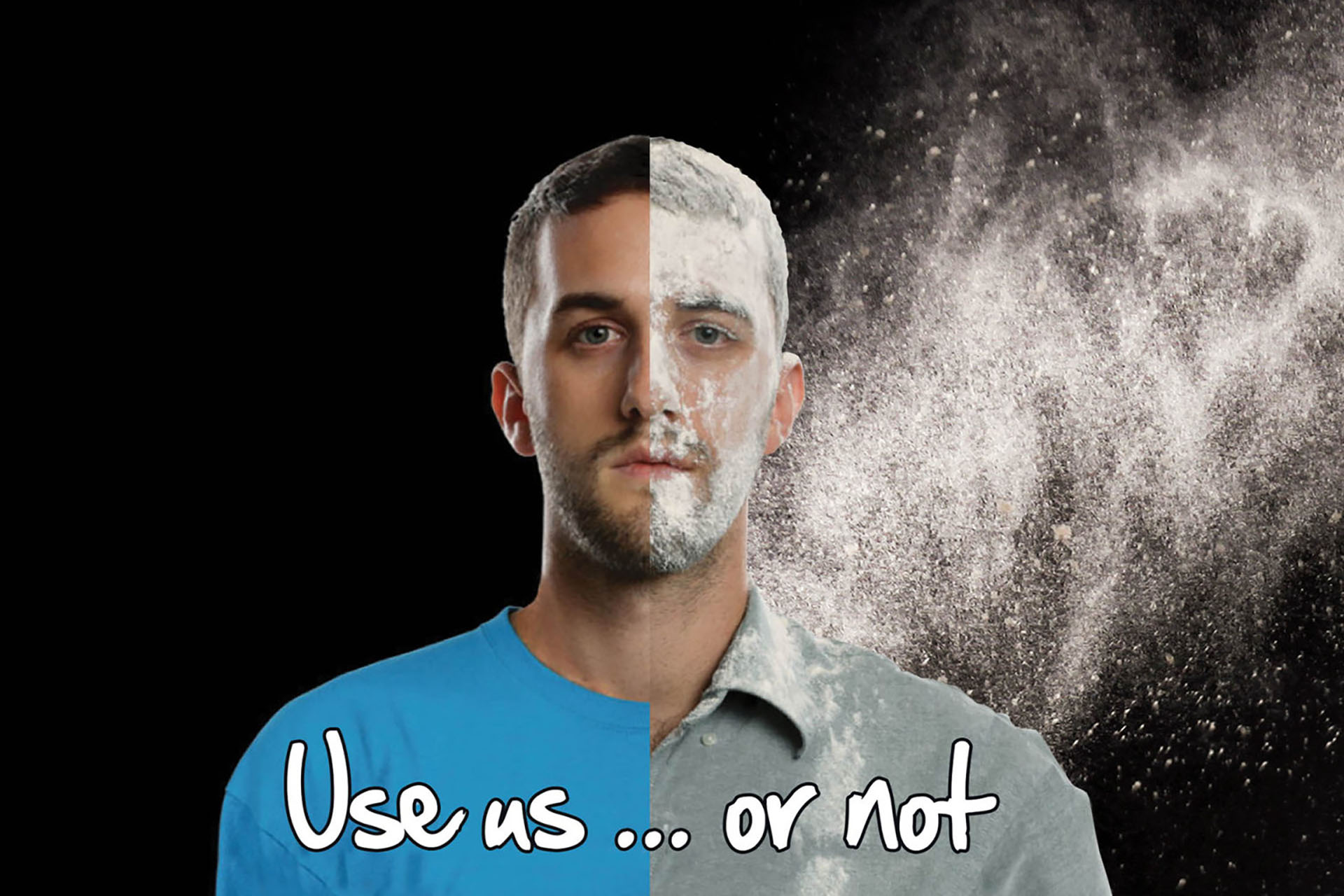 DustRam® –
Inventor of Dustless Tile Removal
Is a tile removal in your future home renovation plans?  DustRam® College Station offers the industry's best solutions for dustless flooring removal. Our team of flooring experts provides unique advantages when removing many different types of flooring. With our team by your side, you can expect a truly dust-free result. Whether you need hardwood floor, ceramic tile, carpet, tile adhesive, thinset, or bathtub surround removed, we've got you covered. We capture 99.97% of the dust. Contact us today for a free estimate.
Hours of Operation:
Mo-Fri: 7 AM – 4 PM
Sat-Sun: Closed
Visit Website

Why
DustRam® College Station

is the Best Choice for Your Flooring Removal
Remodeling your home or commercial property is an exciting endeavor that will take your space from outdated to chic. One of the most common improvement projects people take on is installing new modern flooring. This is a fantastic way to not only improve the aesthetic but also increase property resale value. Removing old floors should not leave you and your home exposed to hundreds of pounds of dust. But outdated methods such as virtually dust free and traditional tile removal are not well equipped to provide truly dust free results. To prevent exposure to the dangerous crystalline silica dust from flooring removal, hire a DustRam® certified contractor. DustRam® is the inventor of the truly dust free tile removal method.
Hire the original dustless tile floor removal company in the nation for the best-results money can buy.
99.97% of Dust is Captured
Inventor of Dustless Floor Removal
Better, Faster, & Cleaner
Replacing Your Floors? DustRam® Will Remove Your Tile 3X Faster!
Are you in the market for a commercial or residential renovation? When it comes time to replace your flooring, don't fall victim to the cancer-causing crystalline silica dust from a tile removal. Traditional and virtually dust free tile removal methods will leave your home full of dust. The only tile removal that is guaranteed to be dust free is one performed by a DustRam® certified contractor.
Our technology is one of a kind and was designed in 2008 to remove your flooring and immediately capture any dust that is created. This prevents the dust from ever going airborne. Dust exposure and inhalation drastically increase the risks of developing serious respiratory diseases that can become fatal. Diseases caused by inhalation of crystalline silica dust are Silicosis, COPD, kidney disease, lung cancer, and more. DustRam® eliminates dust exposure and captures 99.97% of it at production.
We have patented dust guards, effective automatic self-cleaning Tile Removal Vacuums, carefully designed 3D-printed components, HEPA filters, and much more technology. This advanced technology was designed to protect your home or commercial location from the dangers of silica dust. Beware of conventional methods of floor removal services that leave carcinogenic tile dust all through your property. For more information about the benefits of DustRam® Tile and Floor Removal Services contact us today. Our team of flooring professionals is happy and available to speak with you today.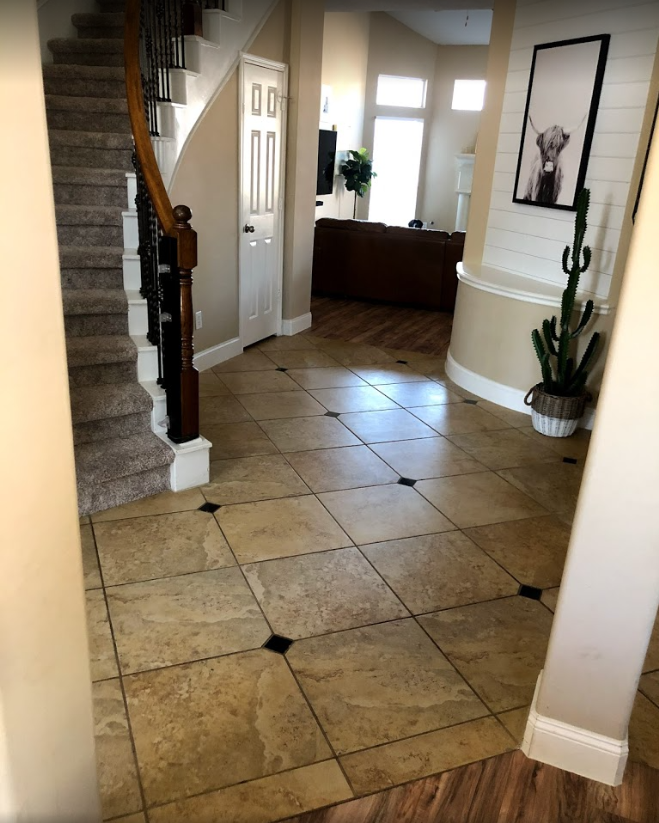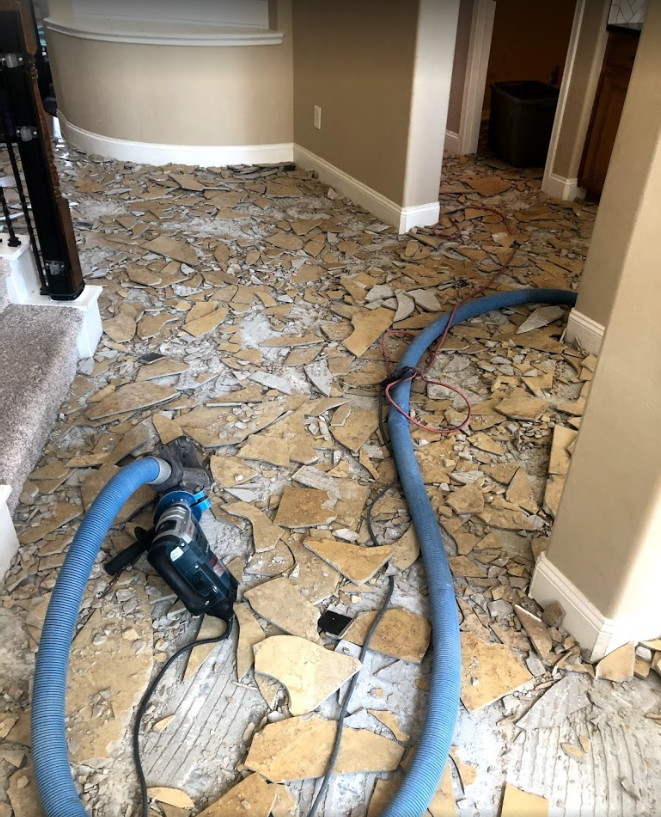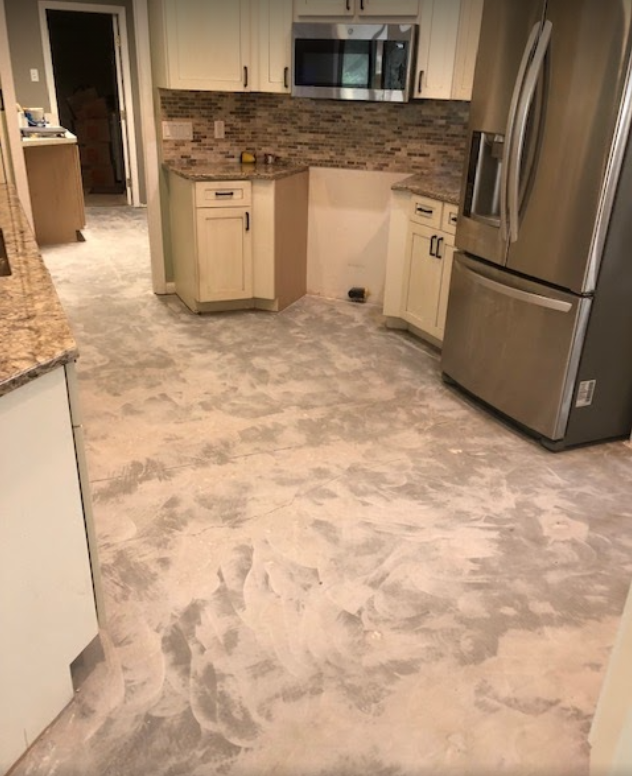 DustRam® Removes Commercial and Residential Floors
Our System Captures Dust 100X Smaller than 1 Grain of Sand
The average floor removal job will produce 600 pounds of cancer-causing silica dust. Each square foot of tile that gets chipped and removed produces one pound of dust. If you are wanting to remove 300 square feet of tile then 300 pounds of dust will be created in your home. Don't hire contractors that use outdated tile removal methods because they won't have the necessary equipment to capture the dust. Virtually dust-free means that while the dust is not visible to the naked eye, it still exists in your home. This method still leaves hundreds of pounds of dust behind. Crystalline silica dust particles are a hundred times smaller than a grain of sand. Dust from a traditional or virtually dust-free tile removal is released back into your home and completely floods your cabinets, pantry, ceiling, drawers, and much more. It is better to hire a truly dust-free tile removal contractor and avoid exposing your home, belongings, and loved ones to respirable silica dust. 
DustRam® Can Remove Many Types of Flooring Materials
Our DustRam® certified contractors specialize in the removal of Saltillo, terrazzo, ceramic tile, hardwood, carpet, natural stone, micro-toppings, tile adhesives, sheet vinyl wood, and many other types of floors. DustRam® certified contractors deliver results that will always be cleaner than anything provided by other contractors in your city.
Hardwood Floor

Ceramic Tile

Thinset Mortar

Adhesive and Glue

Carpet

Natural Stone Tile

Slate and more
When the DustRam® system is used in the removal of these types of flooring, the danger of exposure to cancer-causing silica dust is eliminated. Our reliable services ensure that this dust never goes airborne, leaving your property uncontaminated. This is a primary advantage of choosing DustRam®'s dustless flooring removal services.
Traditional and Virtually Dust Free, Leave Dust in Your Home!
Hire a Truly Dustless Tile Removal by DustRam® for Guaranteed Dust Free Results
One of the primary reasons many people avoid flooring removals is because of the dust created in the process that seems to last in the home interminably. No one wants to face this unpleasant dusty mess. DustRam® has designed its equipment to effectively capture and contain 99.97% of dust leaving you with an immaculately clean result. Traditional and virtually free methods, do not capture this much dust. They only capture some of the tile dust meaning you are still left with hundreds of pounds of dust in your home. Just because you can't see it, doesn't mean it's not there. Don't fall victim to the dust. Choose DustRam® the inventor of dustless tile removal.